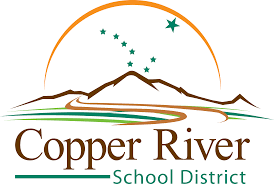 WELCOME TO THE COPPER RIVER SCHOOL DISTRICT!
To enroll a new student, please complete an enrollment packet.
If your computer has the correct Adobe software, the forms may be completed
ONLINE and submitted electronically with a digital signature,
or they may be PRINTED and delivered to your child's school.
Please contact your child's school secretary or lead teacher for assistance.
Glennallen K-5: Mrs. Eileen Sondergaard / esondergaard@crsd.us / Ph 907.822.3232 / Fax 907.822.8500

Glennallen 6-12: Mrs. Yvette Delaquito / ydelaquito@crsd.us / Ph 907.822.5286 / Fax 907.822.8501

Kenny Lake School: Mrs. Michelle Wygant / mwygant@crsd.us / Ph 907.822.3870 / Fax 907.822.3794

Slana School: Mrs. Dianna Woodhams/ dwoodhams@crsd.us / Ph 907.822.5868 / Fax 907.822.3850

UPSTREAM LEARNING FAMILIES: Please contact the Upstream Office for enrollment procedures! 907.822.3234 ext.1227
COMPLETE ENROLLMENT PACKET
SEPARATE ENROLLMENT DOCUMENTS
Complete one of each of the following forms for EACH child being enrolled:
Complete and submit only ONE of each of the following forms:
Student Records Request Form (Transfer students ONLY: one per family)

Free & Reduced Lunch Application (one per family)
Optional Exemption Forms
ENROLLMENT CHECKLIST & SIGNATURE VERIFICATION