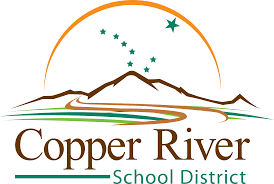 Congratulations to Cheralea Purcell!!
---
DEED Spotlight on Cheralea Purcell at Kenny Lake School, Copper River School District
Tags: spotlight
Ms. Cheralea Purcell teaches middle school English Language Arts, AP Literature, British Literature, is the district-wide teacher of record for all the Edgenuity online courses, yearbook sponsor, senior class sponsor, and National Honor Society sponsor at Kenny Lake School in the Copper River School District (CRSD). In summary, Ms. Purcell is deeply engaged in the educational development of students across the CRSD district in a variety of ways. This year has been a bit different due to many factors, but that did not stop Ms. Purcell from working to connect with students, families, and the community.
Ms. Purcell states, "Technology drives most of what I do. During any given class period, I have students in three different school locations and in various homes." Zoom and/or virtual teleconferencing is utilized to connect with students. Ms. Purcell also built a website for each course she is teaching, and posts information for families and things students need to know. This educator does not just keep families informed of assignments and progress, but also posts pieces of student work to the local newspaper. This allows the community to read highlights from the classroom and students gain experience as published authors.
The love of a good story is a passion point Ms. Purcell looks to share with others, saying "Teaching the writing process is a long journey, but the rewards are amazing!" This year the online environment has allowed Ms. Purcell to continue to share the love of reading and writing with students, and has recognized additional benefits. "Most of my students take responsibility for their work, time schedules, and deadlines, and do what they need to do to earn the grade they want. Plus, we spend our time together in profitable ways, and then the students can do their assigned work whenever it best fits into their personal daily routine."
Ms. Purcell is really enjoying her AP Literature course this year and was excited to share about the small but mighty class of seven amazing students. This course follows the Harkness Method, which creates a culture of inquiry and dialogue around topic areas. The students in Ms. Purcell's course come with the reading assignment completed, so the class time is spent on diving into the deep issues from the literature. According to Ms. Purcell, this allows the class to "have stimulating conversations that grow minds and stretch boundaries and possibilities."
Ms. Purcell is learning how to better engage students and families online, and encourages other educators to find something to embrace about this new experience in education. Ms. Purcell has learned how to manage a variety of roles in a multitude of ways, and does it with passion and dedication to this amazing profession. Education may "look and feel different, but different is not necessarily bad; it's just different." Ms. Purcell stated.
So thank you, Ms. Purcell, for embracing different as an opportunity to guide students to explore literature and write about this amazing journey in education.