Upcoming Weekly Events for Slana School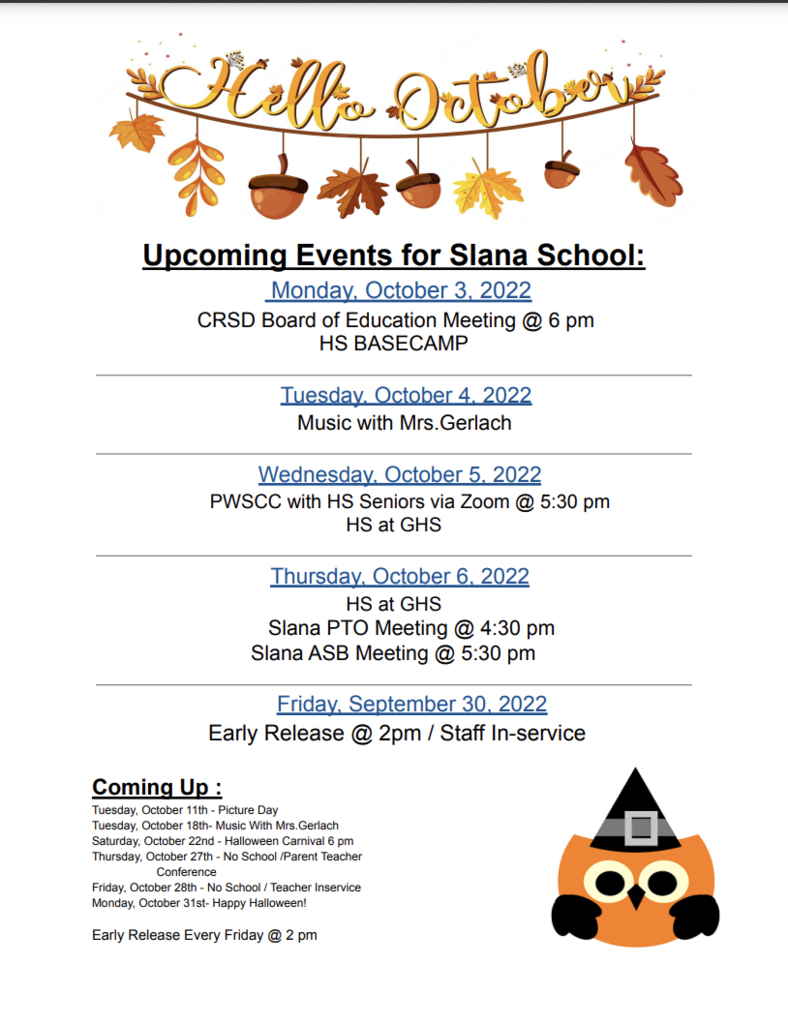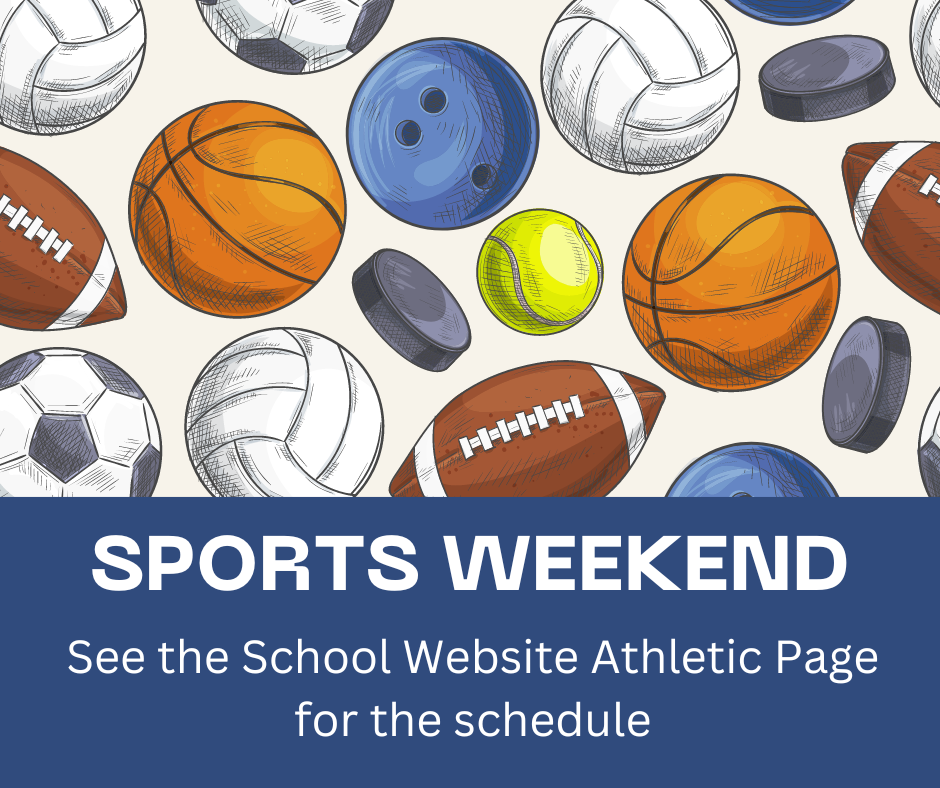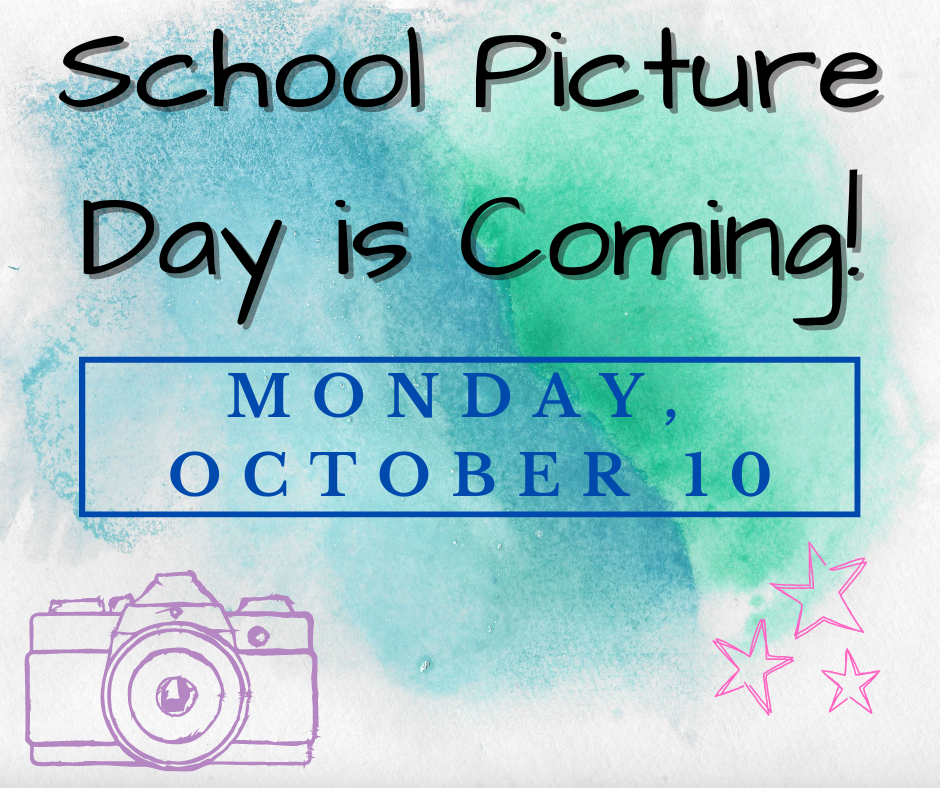 The Marine Biology class took a field trip to Moose Creek to learn about the Copper River Watershed. Students learned about the important species that live in our waters and how our watershed is important to the culture and communities of the Copper Basin. Traps were set and students were able to collect data on Rainbow Trout, Longnose Sucker fish, and Sculpin - all caught within the live trap. Thank you to the Copper River Watershed Project, National Park Service, and Alaska Department of Fish and Game for helping pull off a great field trip! The students learned a lot and had a great time!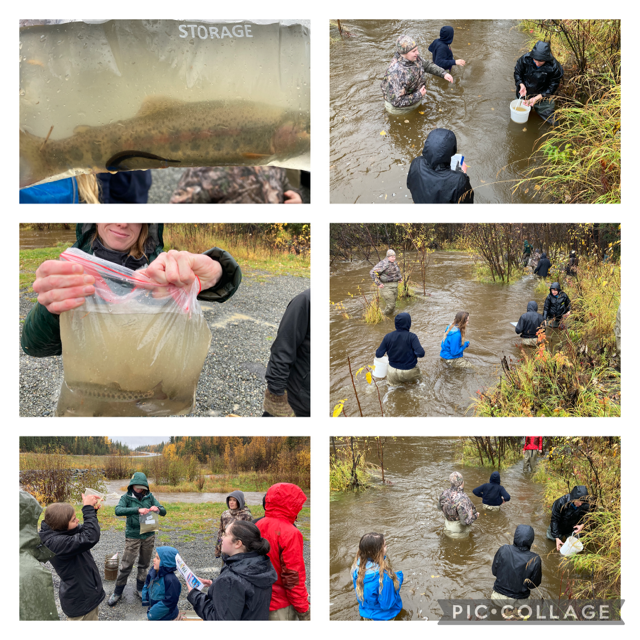 Reminder of Upcoming College/Career Events: 10/05/22 (5:30 PM) - FAFSA Presentation for CRSD seniors and families. PWSC will host the presentation at GHS but zoom links available upon request. Please reach out to Mr. Dale with questions or for a Zoom link.
jdale@crsd.us
10/12/22 (8:40 AM) - UAA Admissions Presentation for CRSD seniors. This will take place at GHS and will be hosted by an UAA admissions Officer. Please reach out to Mr. Dale with questions.
jdale@crsd.us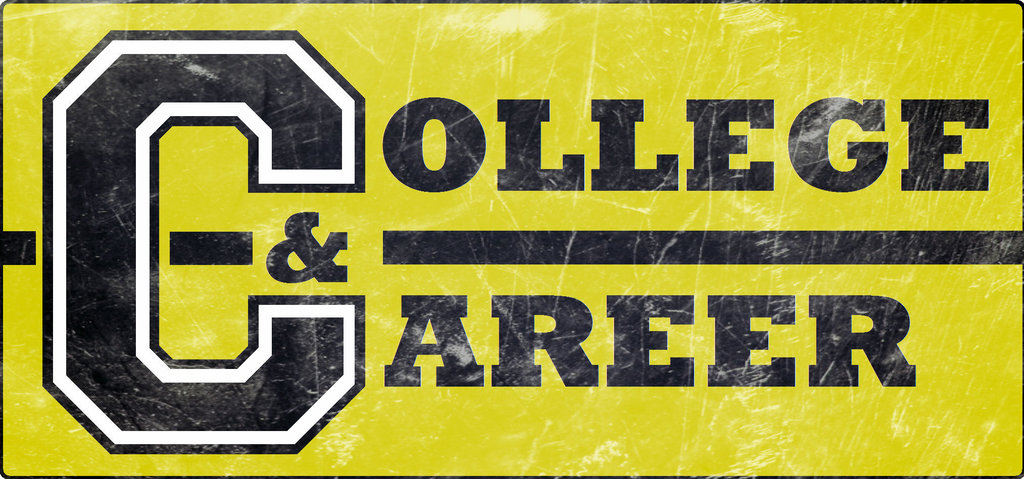 It's time to start thinking about Yearbooks! Check out the flyer for a discount on customizing your own pages in the 22-23 yearbook. Discount pricing is available until September 30, personalizing pages is available until March 27.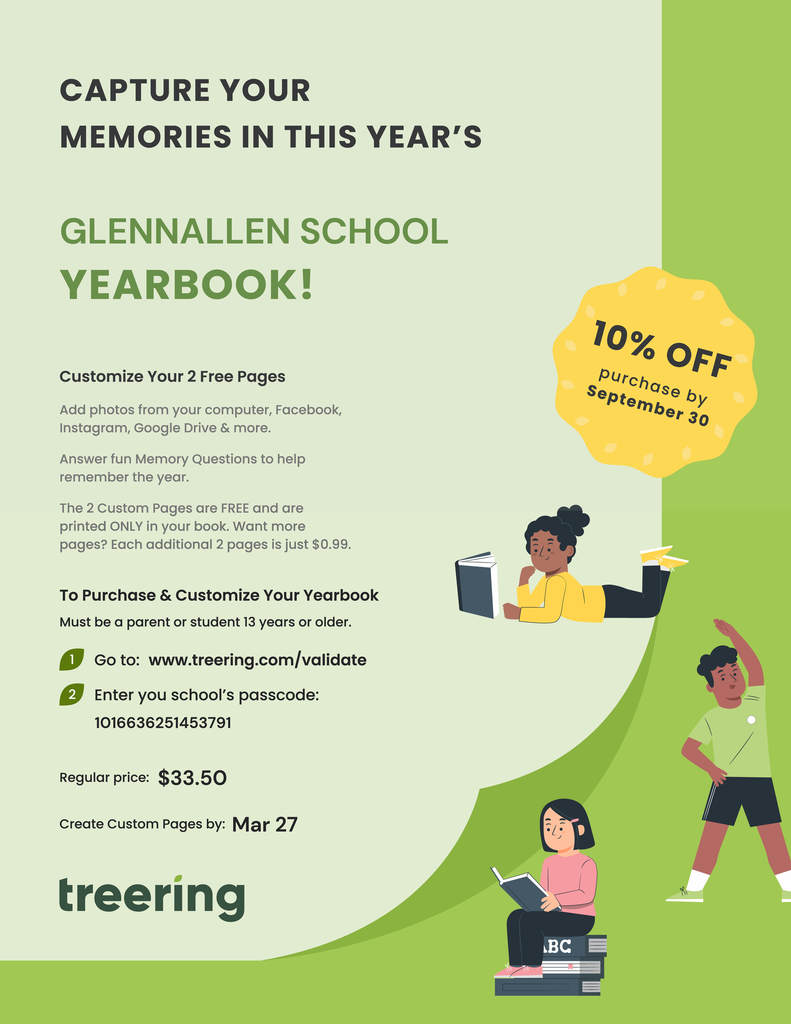 We will miss you Gini! Thank you for pouring your heart and soul into our school. Best wishes on your new adventures with your family!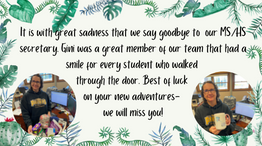 Please come to our MEP Informational Meeting to discuss some of the wonderful services we are offering your child(ren) and/or discuss how we can better serve your child(ren)'s unique needs. We are also hoping to form an Advisory Council and need you! Food/Drinks available.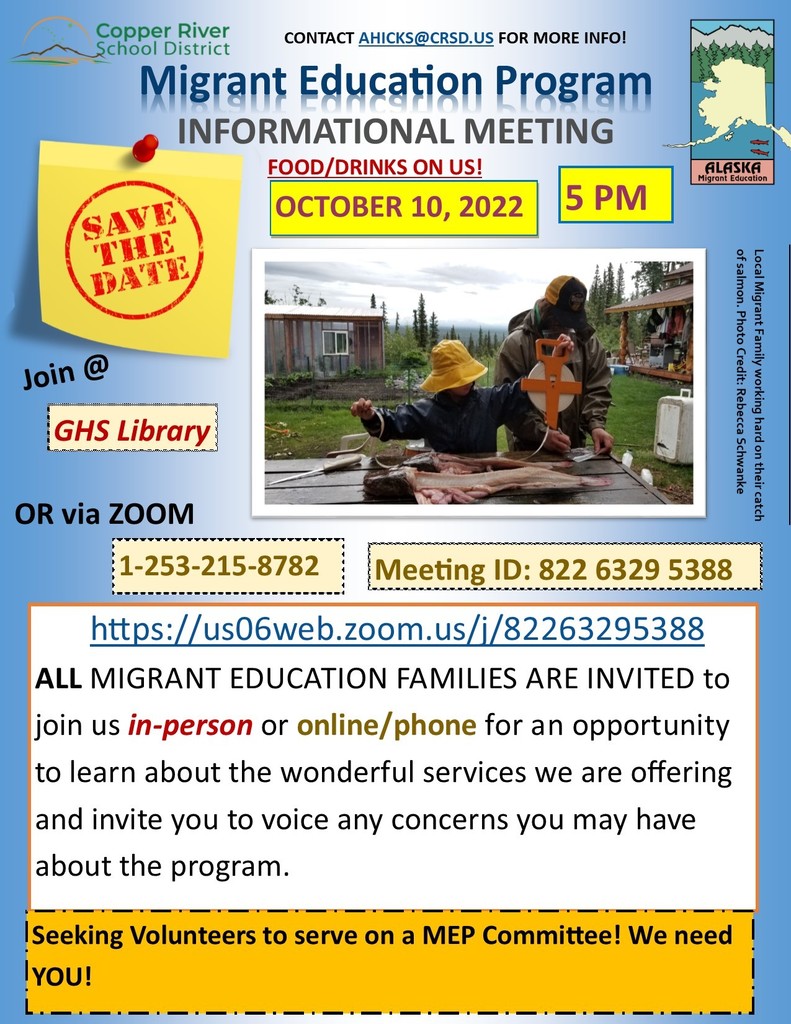 DID YOU KNOW... CRSD Migrant Education Program (MEP) can provide services to match the unique needs of your child(ren)? Each MEP student is eligible to receive up to $250 financial assistance or more (as deemed necessary) per academic year for services. How can we assist you?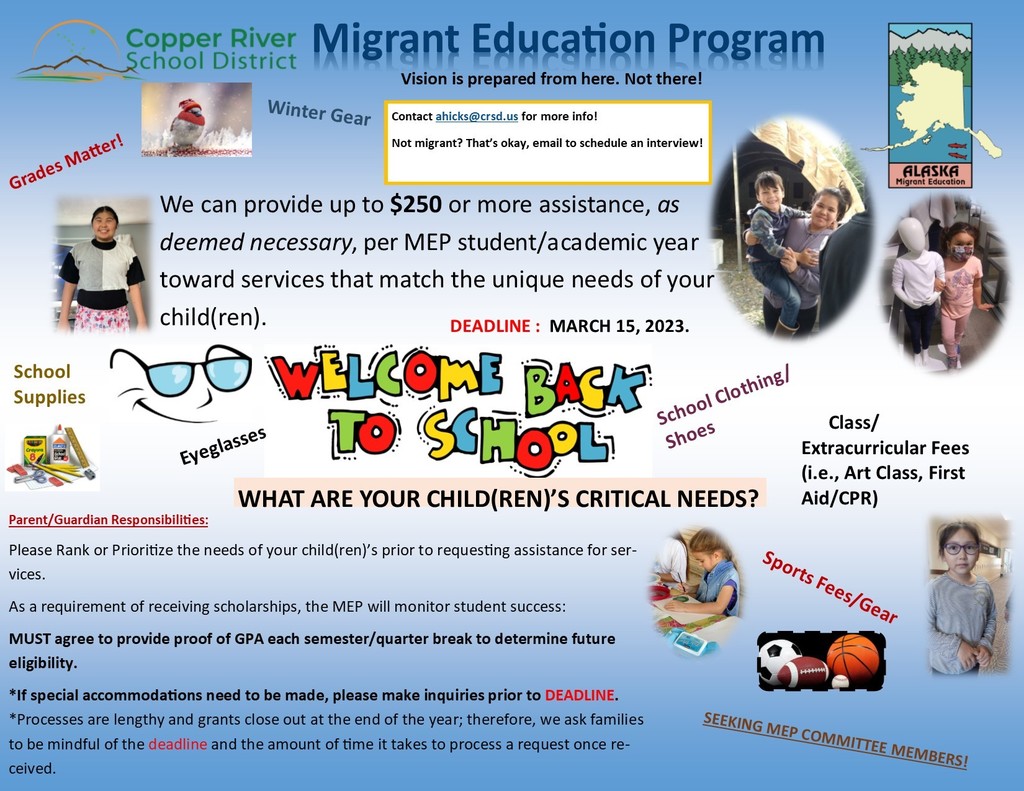 Upcoming Events for Slana School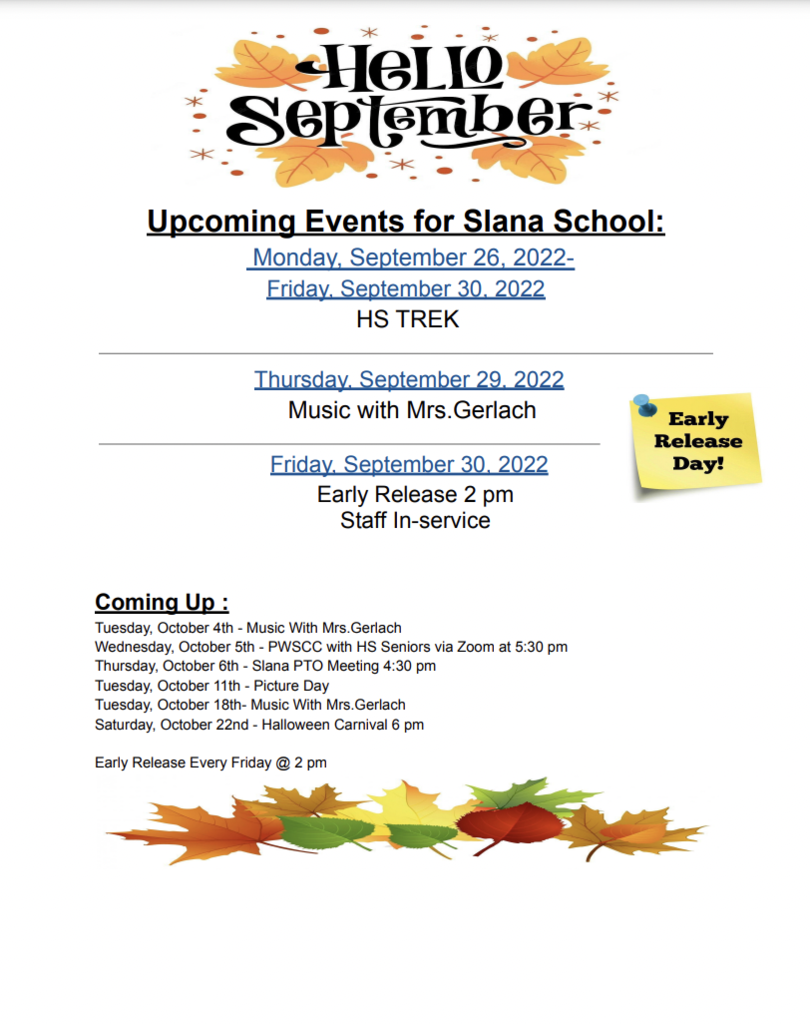 Kenny Lake School is once again gifting students a school shirt. If you would like to donate funds to assist us in purchasing these, please let the school know by calling 907-822-3870 or by mailing the donation to Kenny Lake School at HC60 Box 224, Copper Center, AK 99573. Your generosity is greatly appreciated.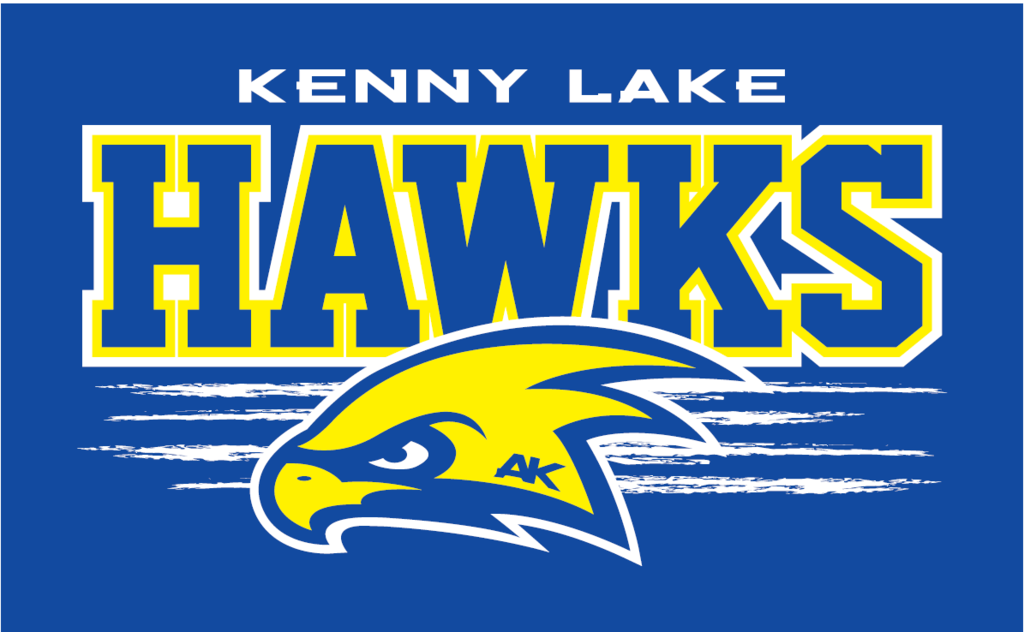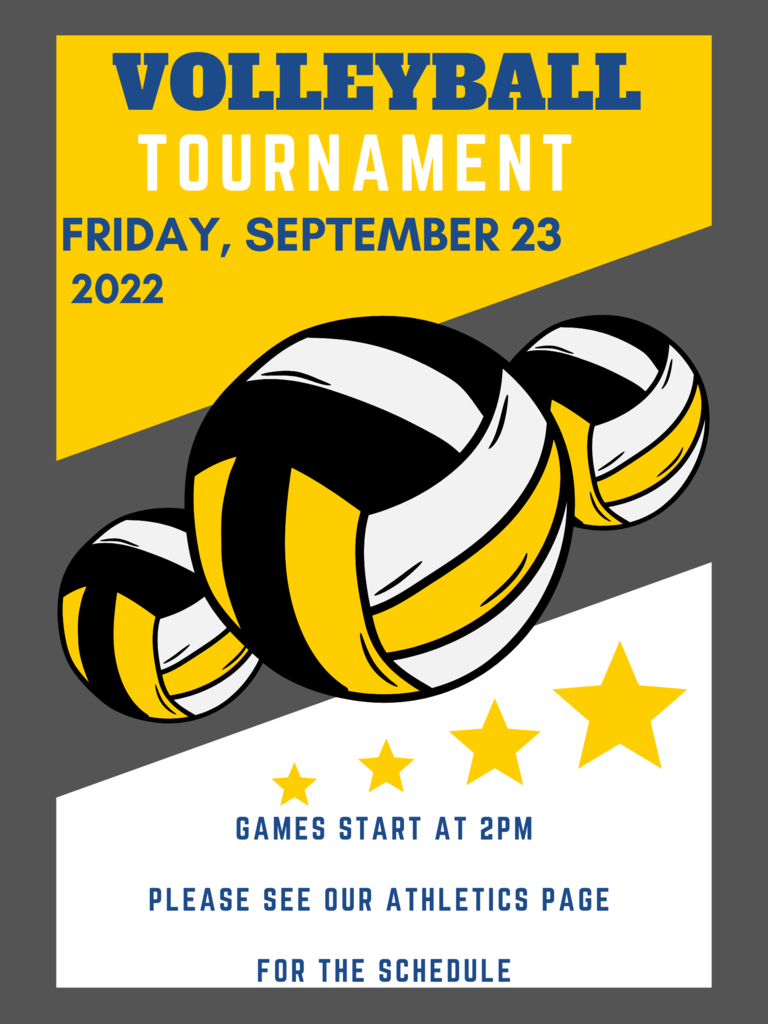 Coca-Cola is giving $20,000 scholarships to 150 students across the country. The application period closes on 10/31/22. Learn more and apply online at coca-colascholars.org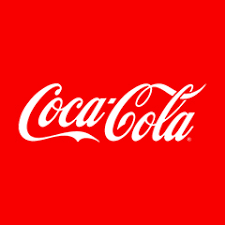 An informational meeting for the GHS Class of 2023 and their parents/guardians is scheduled for Thursday, September 29 at 6:00 pm in the high school Library. In this meeting, we will discuss graduation and graduation requirements, as well as scholarship opportunities. If possible, all seniors and at least one parent/guardian should attend. If you are unable to be at the meeting in person, a zoom link can be sent out upon request.
abrown@crsd.us
jdale@crsd.us
mrude@crsd.us

A big thank you to everyone who came to Glennallen's Open House last week. We had many parents and students floating around the school, meeting teachers and seeing all the hard work students have done. Thank you to our two wonderful principals, Ms. Jackson & Mr. Williams, for serving pizza and salad to our families. Thank you Parents and Guardians!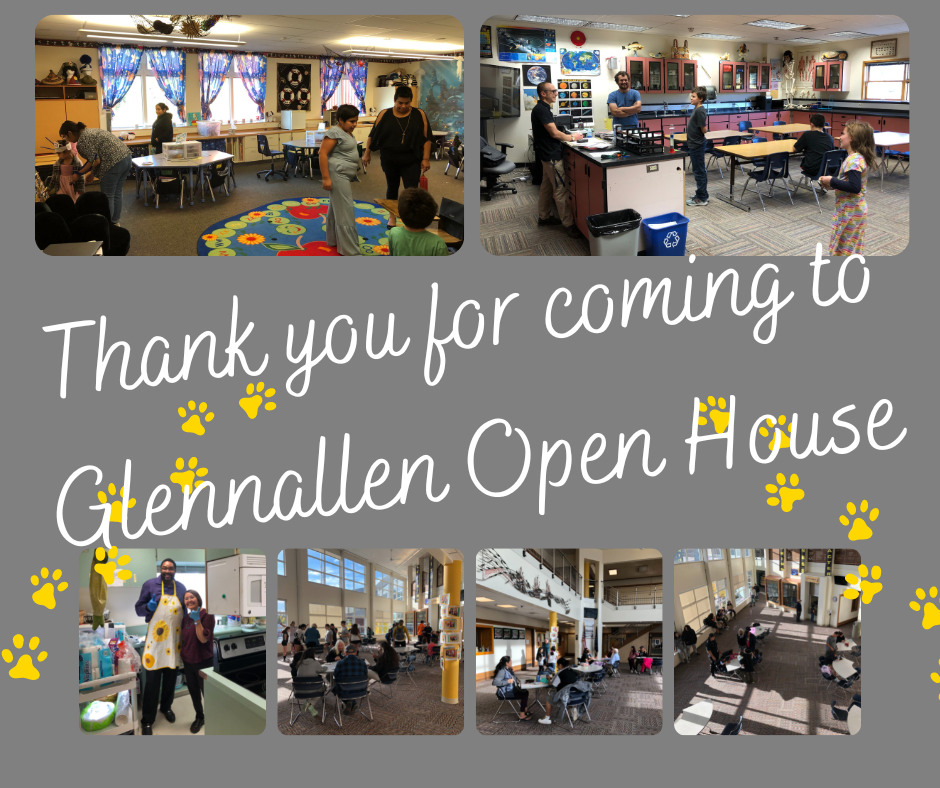 We need substitutes! Come in and get to know our students and staff. Please call Naomi at 907-822-3234 for more information.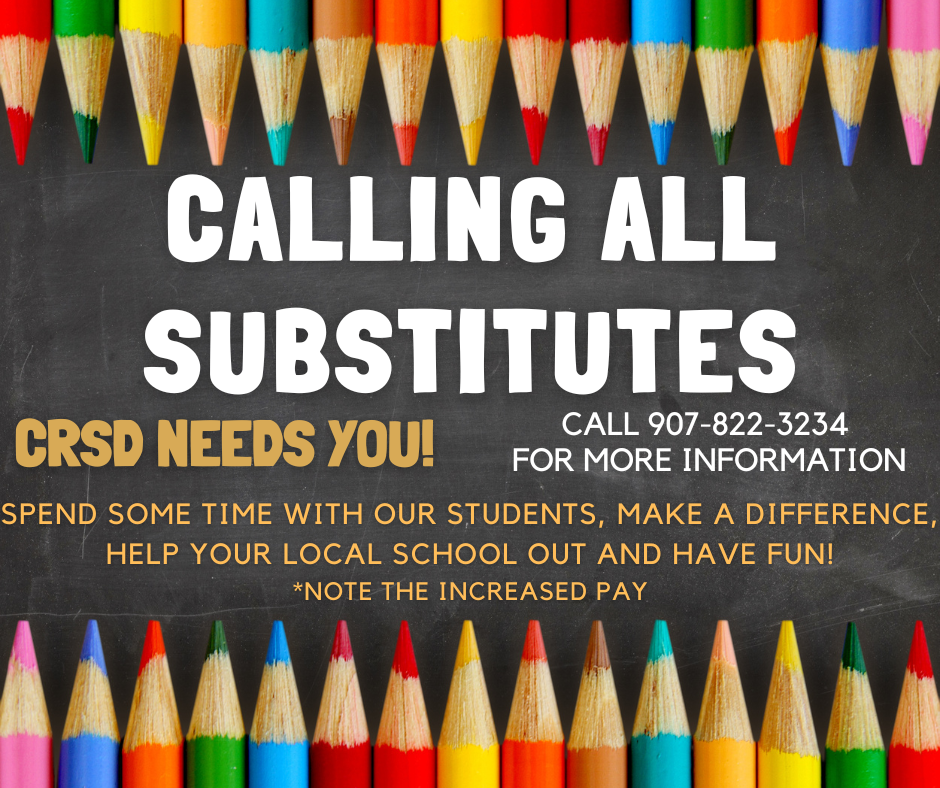 Slana School's Upcoming Events for the Week of 9/19/2022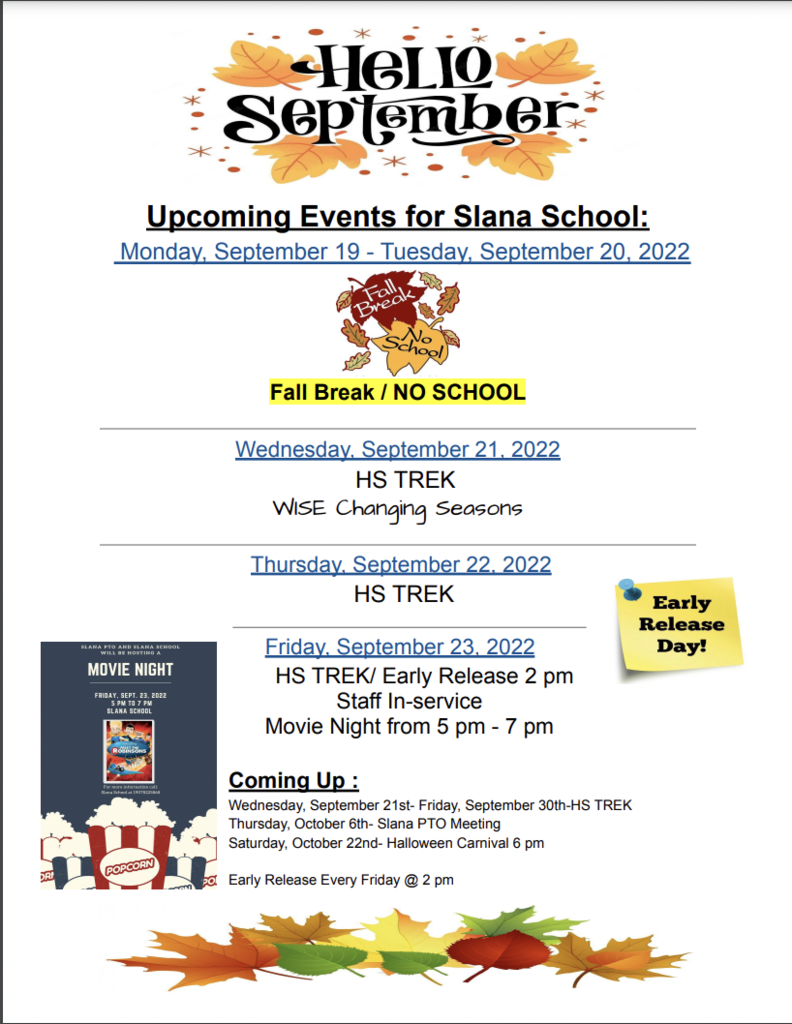 Fall break is here! No School Monday and Tuesday 9/19-9/20 Have a great break and we look forward to seeing you on Wednesday!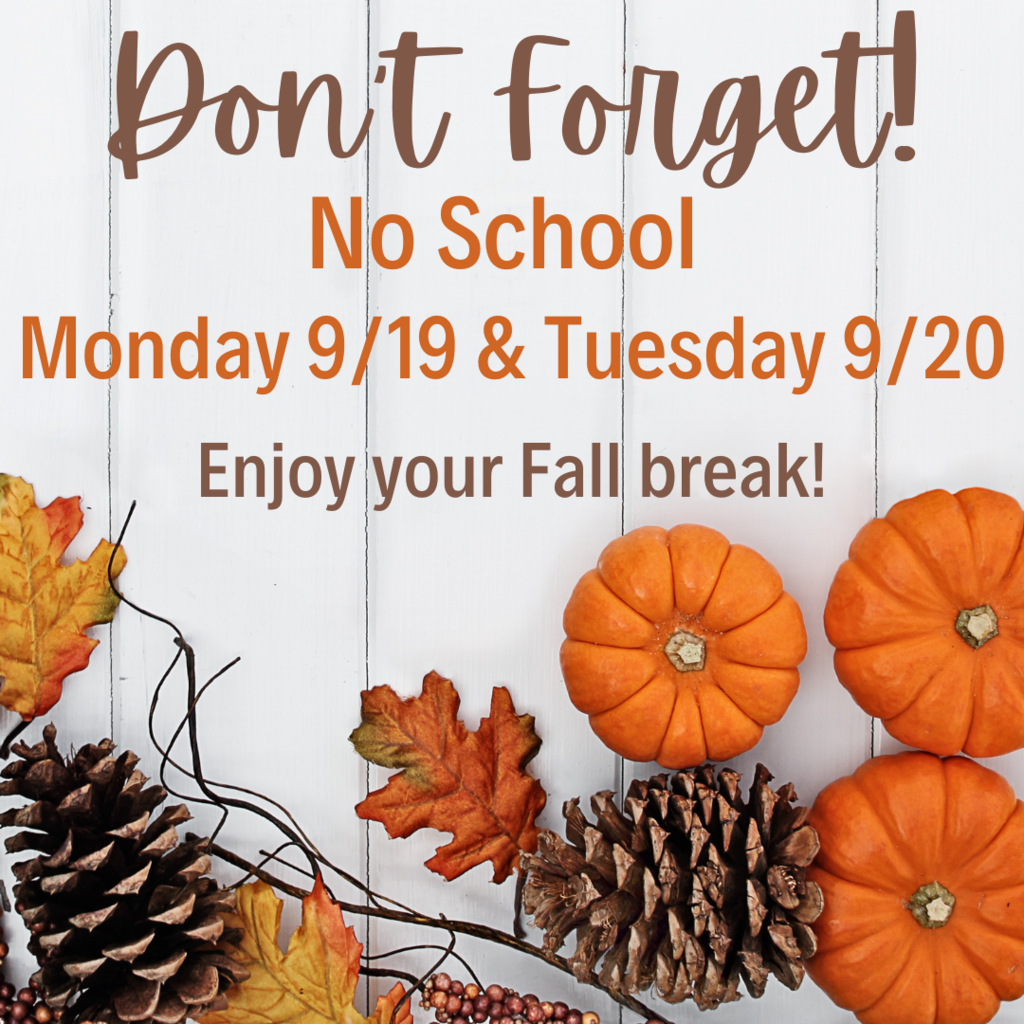 Open House TONIGHT in Glennallen! 4-6pm Come meet your student's teachers and see their classrooms. Pizza and Salad wil be served.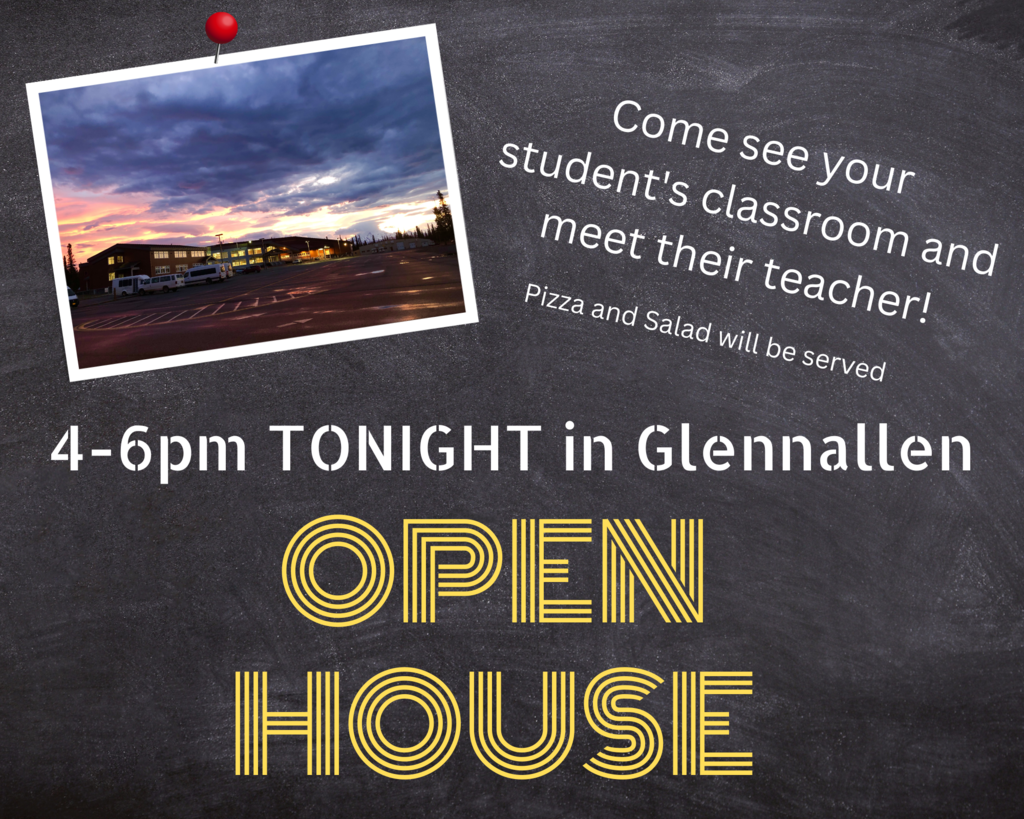 Slana PTO is hosting a Movie Night at Slana School next Friday, September 23, 2022 @ 5 pm. Come join us! For more information call Slana School at 907 822 5868.